Pallet Rack Systems
Selective Pallet Rack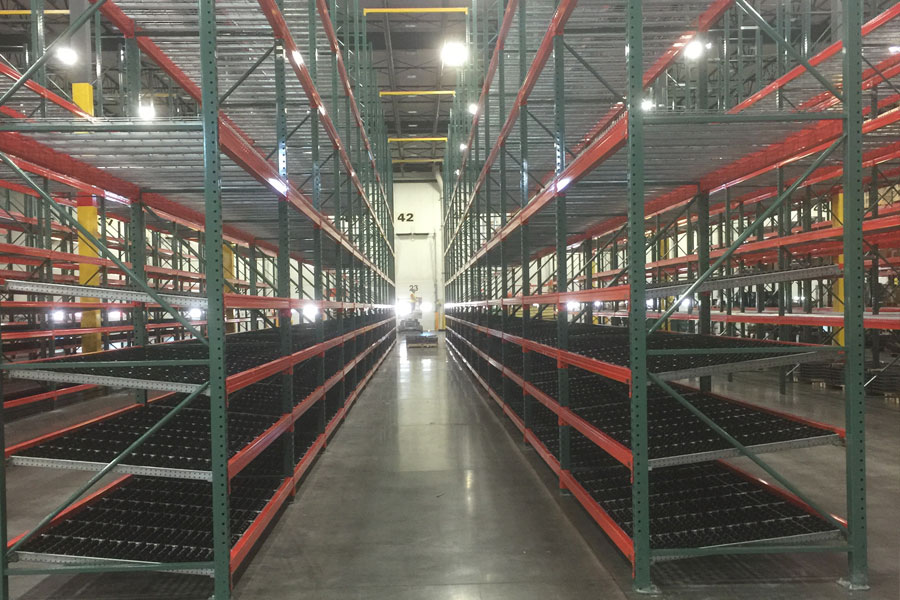 Selective pallet racking systems are the most versatile and cost-effective pallet storage available in the industry because it has the lowest cost per pallet position, easiest installation, and provides the most selectivity.
R.W. Lundquist Company Inc. offers new top of the line Steel King teardrop rack manufactured in Stevens Point, Wisconsin. Tear drop selective rack is the most common selective rack on the market today and represents about 95% of all selective rack sold because of its easy assembly and availability.
R.W. Lundquist Co. also offer a large inventory of used selective teardrop pallet rack at our convenient drive-through warehouse just off Highway 280 in Minneapolis. You can stop in and shop or call for quotations. We have drive-through service for easy pick up.
Double-reach selective rack is a higher density layout of typically teardrop rack using the same aisle spacing as typical selective rack but with back to back double rows. This layout requires a double reach lift truck and gives you less selectivity.
Pushback Pallet Rack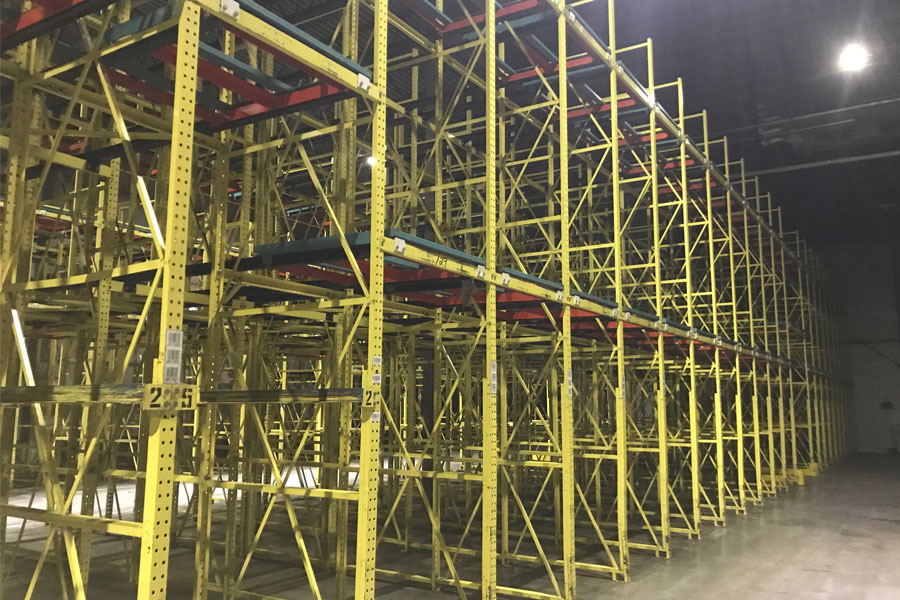 When it comes to pallet racking systems, a pushback system is the most luxurious and efficient storage systems of all. Pushback pallet racking systems offer greater storage density and can significantly boost operations efficiency upon a general learning curve in comparison to a selective racking system.
Pushback pallet racking, similar to Drive-In pallet rack, optimizes storage space by increasing number of pallets per pallet lane location, thereby decreasing the three dimensional space per pallet needed. Pushback racking systems are most well utilized in organizational warehouses/distribution centers where pick volume and turnover are high. R.W. Lundquist Co. offers top of the line structural push back systems
Operation
Pushback racking utilizes gravitational cart flow in each pallet position to maintain a continuous pick face for easy forklift accessibility which creates a last in first out (LIFO) operating system.
Each pallet lane consists of a set of carts (1-5 depending on number of pallets demanded per lane), each storing one pallet and can then be pushed backwards, sliding along two guide rails, to reveal another cart or the two rails (another pallet position) depending on pallet depth: two deep, one cart – three deep, two carts – etc.
The guide rails are assembled atop of structural beams at a slight angular decline toward the pick face where pallets are loaded and unloaded from the rack to prevail the gravitational force, thus, sliding any loaded pallet to the pick face of the pallet lane.
Drive-In Pallet Rack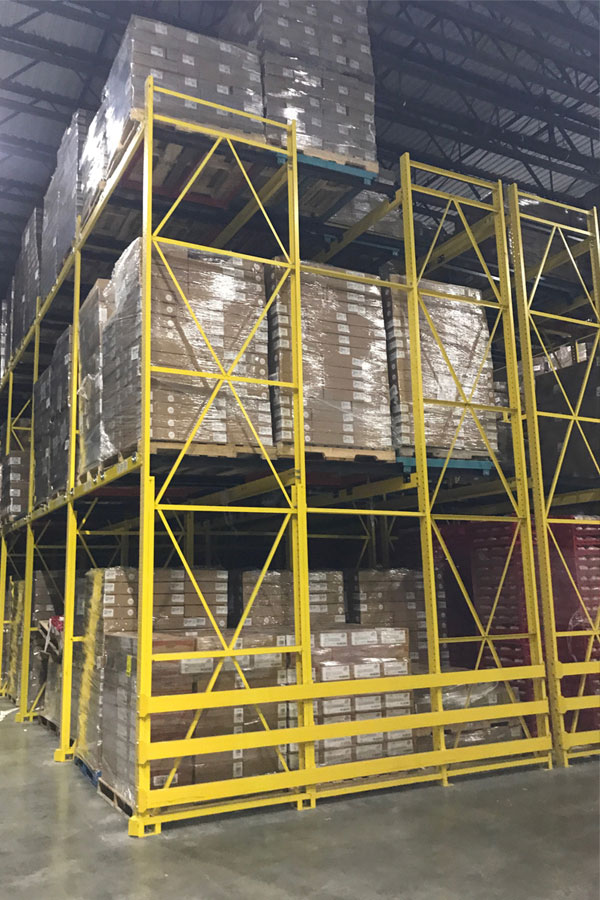 Drive-In pallet rack storage systems give you the highest density of pallet storage available. Each drive-in bay can be as many pallets deep as needed and can go as high as your lift truck capabilities. Each bay should store the same product because it is a first in last out system. This system typically works best for logistics companies and manufacturers of fast moving products without a shelf life.
Density is the most desirable quality of the drive-in system, but selectivity, retrieval time, and rack damage are the most noticeable shortcomings. R.W. Lundquist Co. offers several brands of drive-in rack but we prefer to sell structural systems with good rack protection.
Pallet Flow / Carton Flow Rack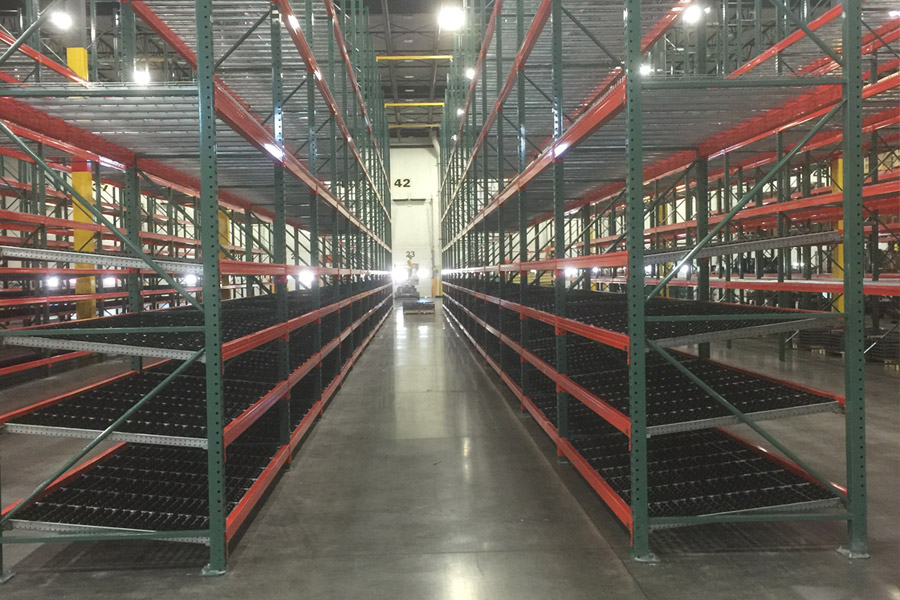 Pallet flow and carton flow racking systems are ideal for high volume order picking. For operations with high inventory or materials turnover, flow systems provide the necessary aid in selectivity to ensure simple and easy order picking as well as inventory maintenance. These systems are typically first in, first out processing but can be modified depending on inventory management preferences.
Flow rack coupled with an integrated conveyor system optimizes order pulling efficiency to the fullest for operations that devote much of their labor to order processing.
Cantilever Rack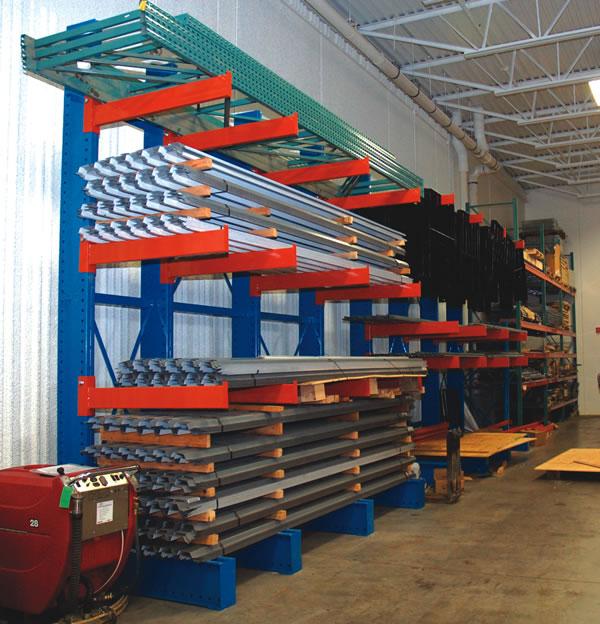 Cantilever racking is extremely useful for storing long items such as piping, lumber, or other lengthy/bulky materials that need to be stored either freely or on pallets. Cantilever racking utilizes heavy duty "L" shaped uprights assembled using bolts and "x" bracing materials. Each upright has a user desired number of arms hanging off at an incline that the product rests on horizontally which eliminates the interference of traditional uprights. The heights of the arms are very customizable and hang off at incline angle so as to avoid materials sliding, rolling, or other means of falling off.